PCOB Staff
Reverend Susan Hill
Minister of Word and Sacrament
The Reverend Susan Hill was born and raised in the small town of Scarborough, Maine where the Atlantic Ocean was her backyard swimming pool, and where her love for kayaking and sailing was born and nurtured. She spent her youth attending the Black Point Congregational Church where she had been baptized, went to Sunday School, sang in the junior choir, and was active in youth fellowship. She became a member of the church and was married there.

She went to the University of Maine and met her future husband, Jim, who was in the United States Air Force. They have two children, James Hill and Julie Park-Swain who have blessed them with four grandchildren, Alec Park, Ryan Park, Raelyn Hill, and Aidan Hill. Rev. Hill loves dogs and has two Havanesse – Sophi and Molly.

In 1976, Hill joined the Air Force and began an incredible career in the medical field as a dental hygienist; teaching and developing programs to enhance the health of military members and their families. In 1983, the military assigned her to the hospital at Beale Air Force Base in northern California. A new disease with very little understanding of it entered into the health care arena – HIV/AIDS. After several years of being involved with the treatment of these patients, listening to their stories of stigmatization and isolation; she felt the gentle tug of God to provide another type of care for her patients. She returned to school and received a Masters Degree in Marriage and Family Therapy. She continued to serve in the medical field until she retired from the Air Force in 1998

She had attended the military chapel services, but after settling down in Marysville, Cal., she started attending the First Presbyterian Church and in 1986 joined its fellowship, serving as a Deacon, Elder, Clerk of Session, and Parrish Associate until relocating from California. After retirement from the Air Force, she attended a Presbyterian women's retreat at Lake Tahoe and heard God calling her into ordained ministry as a pastor. Eighteen months later and with some trepidation she started seminary at San Francisco Theological Seminary, graduating in 2004 with a Master of Divinity degree.

After graduation, Rev. Hill took an interim position as a youth and young adult coordinator at St. Andrew Presbyterian Church, Yuba City, CA. This gave her a chance to explore God's will for her ministry more fully. Knowing in her heart that her gifts included providing pastoral care to persons in the hospital and congregational care, she accepted a call as a chaplain at the University of California's Davis Medical Center and was ordained as a teaching elder on November 12, 2006.

During a routine physical in 2009, Rev. Hill's doctor found several masses in her lungs and she was diagnosed with multiple bilateral pulmonary tumors. Her pulmonologist recommended that she move from the Sacramento Valley; hence, hence her move to Lithia, Florida in November 2009. Rev. Hill came and worshipped with PCOB in January 2010 and hasn't left! Her tumors have disappeared. She continued her hospital ministry, working as a chaplain at St. Joseph's Hospital until 2017 and since April 2013, is approved as the temporary supply pastor for PCOB. "I really look forward to ministering with you!"
Jill Andrew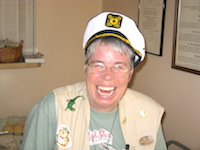 Children's Ministry
Jill Andrew considers it her distinct honor to be PCoB's first ever Director of Children's Ministry. Jill has lived in Brandon for more than a decade, but never had the opportunity to actually work in Brandon until she joined us. She thinks this is an amazing new concept in commuting!

Jill started her life's journey in Ohio and moved herself and her parents to Indiana to start school. Although she allowed her parents to rear her in western Pennsylvania, she knew she was really born to be a Floridian.

Jill attended college at Edinboro State College just south of Erie, PA. There she studied health and physical education with a minor in elementary education. She then proudly served seven years in the United States Army. Her military career took her from coast to coast plus four years in Germany.

Jill "happened" into the retirement field after serving several years as an executive chef in the restaurant business. For the last 20 years, she has served as a corporate food service director, an administrator, a regional manager for independent living, assisted living and memory care facilities. Jill's passion is memory care. She loves joining the journey of those with Alzheimer's disease.

In addition to her Children's Ministry, Jill is an avid golfer. Her mission in life is to "inspire and serve."
Bill Andrew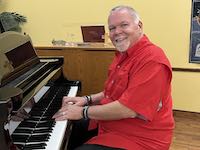 Director of Music
Bill Andrew began as the Director of Music in July of 2021. Born in South Bend, IN, Bill began playing piano at the ripe age of four years old. At age seven, he took a liking to the church organ and while in third grade, he had the opportunity to play a piano and organ duet with the organist at Highland Presbyterian Church in New Castle, PA where he grew up. She got sick during the service and asked Bill to play. Mind you, he was unable to even reach the pedals. But he played "Holy, Holy, Holy" with no problem at all.

This began his love for church music and the organ. Bill attended Westminster College in New Wilmington, PA where he studied Church Music with his applied instrument as the organ.

He is currently employed with Tessera of Brandon Assisted Living and Memory Care as their Director of Activities. Some of you will remember Bill as he was our Director from September 1999 to October 2003 here at PCOB.

His first "real" church job was in 1974 where he and the pastor served 3 small country churches in central Pennsylvania…one at 9:00, one at 10:00 and one at 11:15. With Bill's return to PCOB, this will be his 21st church in a period of 48 years. Bill loves golf, travel and dining out. And yes, Jill is Bill's older sister!!!